This is the EASIEST allergy-friendly chocolate chip cookie recipe! And psst… All the ingredients are healthy!
I'm surprised that this is actually the very first plain ole' chocolate chip cookie recipe that I'm sharing on HTG. It's in no way the first time I've tested chocolate chip cookies…. But if you're going to make a version of everyone's favorite cookie, then you have to do it some justice. I finally found one that I love, and that is so simple to make!
Thinking back, chocolate chip cookies are actually the first recipe I ever remember making by myself. After watching some cooking show on TV (probably on Disney Channel if I'm being honest), I had to cook something myself, and quickly turned to google to learn how to bake cookies. I remember making two big batches of cookies, one chocolate chip and one sugar (my two favorites!) and also making a HUGE mess in the kitchen. Ahem- not must has changed.
But, if I'm remembering correctly, those cookies turned out pretty great too. It's that pure desire to cook that got me in the kitchen in the first place, and keeps me going there now, even when I get super busy and don't have the time to share as many new recipes as I'd love to.
You can figure from the name that the star of this new recipe is the coconut butter, but the flavor of the coconut is surprisingly subtle in the finished cookie. My family honestly couldn't tell the difference- Made more obvious by how fast the cookie disappeared! The taste and texture of Cassava flour is so close to regular flour that the cookies have more of a classic chocolate chip cookie flavor than if it were made with almond or coconut flour.
The ingredients make the recipe unique, but each cookie is packed with the sweet, chocolatey flavor you expect from a chocolate chip cookie. These cookies are soft- but not cakey!- with slightly crisp edges. They don't spread on their own, so you can flatten them to be as thick or thin as you like them.
The easiest way to make these cookies is with a fresh batch of homemade coconut butter. The butter will already be easy to pour, so you don't have to wait for a jar of coconut butter to soften in water. After that, everything can be mixed with a fork and baked in 10-12 minutes. Warm, melty chocolate chip cookies in 20 minutes total. 😍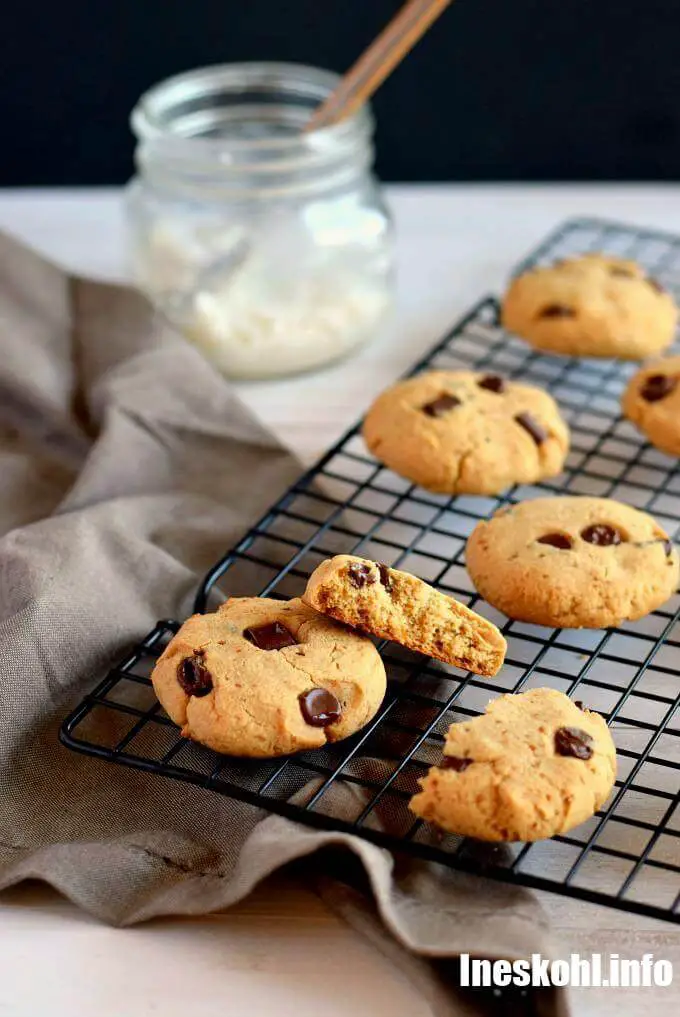 Everyone loves to bake cookies with family or friends (everyone, right???), and this is an easy, healthy way to make your favorite cookie!
COCONUT BUTTER CHOCOLATE CHIP COOKIES
Prep time: 10 minsCook time: 12 minsTotal time: 22 mins
Serves: 1 dozen
INGREDIENTS
⅔ cup cassava flour
½ Teaspoon baking soda
¼ Teaspoon sea salt
¾ Cup coconut butter (softened)
3 Tablespoons honey
3 Tablespoons coconut sugar
1 Egg (room temp)*
1 teaspoon vanilla extract
½ Cup chocolate chips
INSTRUCTIONS
Heat your oven to 350 degrees.
Mix together the flour, baking soda, and salt in a small bowl.
In a larger bowl. mix the coconut butter, honey, and coconut sugar with a fork. Once the sugar and coconut butter is completely combined, mix in the egg and vanilla.
Stir the dry ingredients into the wet to form a dough, and fold in the chocolate chips.
Line a cookie sheet with parchment paper, roll the dough into balls, and place them on the cookie sheet (use a cookie scoop for even-sized cookies).
Flatted the cookies because they won't spread on their own, and bake for about 12 minutes.
Let cool and enjoy!
NOTES
*To bring the egg to room temp: Take it out of the fridge 30-60 minutes before you plan to bake the cookies, or set it in a cup of room temp water for 5-10 minutes.